About Us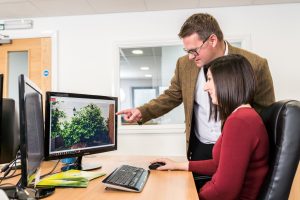 At ProHort Ltd, we have a wealth of experience within the horticultural, arboricultural and landscape development industries – providing landscape plans, arboricultural surveys and soil testing and analysis.
Providing services throughout the UK, we work closely with architects, developers and solicitors to provide them with the detailed documentation they require – whether it is required for a planning application, to assess the causes of damage to property or to present to a court. We also offer a comprehensive landscape design service, offering our clients the opportunity to take a virtual three dimensional walk through the design before the work on site has even started.
ProHort Ltd want to make a real difference to our clients and our colleagues. Putting our clients at the forefront of everything that we do, we offer a fantastic customer experience, expert knowledge and a speedy turnaround – ensuring your documents are sent over to you in time for any deadlines. We offer around the clock support, with emails monitored and responded to seven days a week, between 6am and 9pm. As we know that our clients requirements can differ depending upon the project, we work closely with our clients to provide a service that is bespoke to them, ensuring that their needs and requirements are met completely.
Our experts have a range of qualifications and experience, meaning that you can be assured that the documentation or advice you receive is of the highest standard. Find out more about our Qualifications and Accreditations here.
ProHort Ltd is proudly represented by our parent company Planterra Ltd. The Planterra group provides a range of services within the land maintenance and development industry including landscape schemes and strategies, the removal of Japanese Knotweed and other invasive weeds and Part 35 Compliant Expert Witness reports. To find out more please click the link below…https://www.planterra.co.uk/